DIY Projects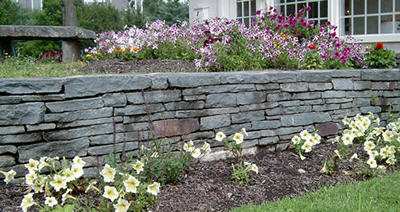 Building a patio or walk with natural flagstone is an easy way to add to your home's usefulness, appearance and resale value. The satisfaction of doing the job yourself is extremely rewarding and it is economical as well.
Find out how to build beautiful stone covered steps in this illustrated article.
The natural stone your have purchased for your home or office is an investment that will give you many years of beautiful services. Stone is a natural product and simple care and maintenance will keep it looking beautiful. Here are some recommendations for routine care and cleaning.
The problem of efflorescence, or the deposit of water-soluble salts on the surfaces of masonry, stucco or concrete, is an old one, and one that has been studied and reported on as early as 1877. Find out what you can do about it.
Simple and beautiful, dry-stacked walls can add another dimension to your landscape. Find out the basics here.
Laying flagstone is an excellent way to enhance your property with natural beauty and gain resale value.
How to Build a Rock Garden
Building a rock garden is a great way to transform your landscape. There are a few steps you need to follow to make your rock garden look perfect.