About Us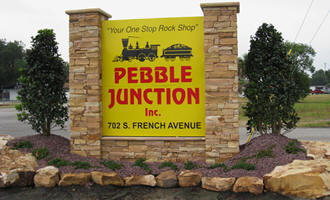 Since 1986 Pebble Junction, Inc. has served the entire southeast with all natural stone products from all over the world. Rail cars and truckloads of building stone, flagstone, garden steppers, boulders, and decorative gravels arrive daily to meet with the demand of our customers.
Though Pebble Junction, Inc. may be relatively new, our parent company Delaware Quarries, Inc. located on the banks of the historic Delaware River in Bucks County, Pennsylvania, provides 60 plus years of expertise in the stone business. Delaware Quarries, Inc. can provide us with an unsurpassed range of colors, textures and varieties of premium wallstone, veneer, flagstone, and landscape gravel from any one of their five locations in Pennsylvania. With Delaware Quarries, as our main stone supplier, you can be assured an uninterrupted source of all natural stone products, day in and day out.
Pebble Junction also produces a large variety of decorative landscape gravels in bags for shipment to mass merchandisers, nurseries, garden centers, stocking dealers, and authorized retailers throughout Florida and Georgia. On a local level we sell to retail customers and contractors, custom homebuilders, masons, landscapers, and pool contractors. We also provide stone to the area theme parks, such as: Universal Studios, Busch Gardens, Sea World, and Walt Disney World. Pebble Junction, Inc and Disney Imagineers spent days at Pebble Junction choosing just the right stone for each area of the Animal Kingdom, which took three years, and thousands of tons of stone to complete.
We have authorized dealers throughout the state of Florida. Please call for an authorized dealer in your area.
With over 15 acres of premium stone products, a well trained and highly knowledgeable sales staff, Pebble Junction, Inc. is truly "Your One Stop Rock Shop."