How to Lay Flagstone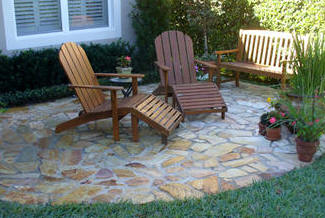 Flagstone is a flat, sedimentary rock cut into different shapes and sizes. It is most commonly used for patios, walkways, and flooring. People choose flagstone for its durability and aesthetically pleasing features which helps make the home stand out from neighboring properties.
Why You Should Lay Flagstone
Laying flagstone is an excellent way to enhance your property with natural beauty and gain resale value. It also makes for a great do-it-yourself home project. The process of laying flagstone is known as dry construction, which uses a sand base to set the stone and does not require any advanced technical skills or equipment. Start your project by choosing from a wide array of flagstone products available here.
10 Steps to Lay Flagstone
Before breaking ground for your flagstone installation project, check your town's regulations to see if you need to obtain a permit beforehand. You can also call the national "call-before-you-dig" hotline at 8-1-1. Once you've completed this process, follow these steps to start your flagstone installation.
Choose where you want to place your flagstone and measure the total square footage of that area. Set up mason lines along the perimeter and place two stakes on each corner.
Make the layout as square as possible by adjusting the stakes' positions as needed. You'll know the layout is square when the diagonal measurements are equal.
Level and slope the strings so that all of the strings are the same height. Then, re-adjust the two strings running down the sides to set the correct slope.
Remove all grass in the area before digging. Once completed, start excavating the soil to a depth of 4 inches plus the thickness of the flagstone. This will ensure the area is still even with its surroundings following the flagstone placement.
Fill the excavated area with sand until it is approximately 1 inch from the top edging.Then, remove the stakes and mason lines.
Lay your stones on a separate flat area and organize them to your preference so that you have a roadmap for placement and can easily pick out the stones you need.
Start at one end and begin placing your stones onto the sand, making your way toward the other end. Place the stones as close together as you prefer.
Level the stones by adding or removing sand. Stones must be stable and match the height of surrounding stones to prevent tripping hazards.
Use a broom to distribute sand into any remaining gaps evenly.
Conclude by spraying with a garden hose to settle the material thoroughly.

Once you've completed your flagstone installation, follow these steps to care for your new investment. Routine care and cleaning will ensure your stones stay beautiful and polished for years to come.

We have flagstone for your patio and walkway. Call us at today 1-800-541-8996.