Weed Barrier
Professional Landscape Fabric:
Weed Control • Patio/Paver Underliner • Filter Fabric • Soil Separator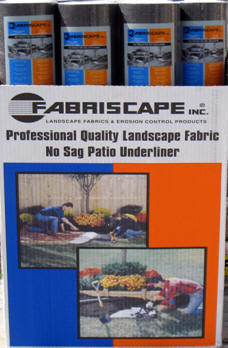 NO SAG PATIO/PAVER UNDERLINER
Sand or aggregate won't sink into and intermix with soil
Aggregate or sand base thickness can be reduced
Prevents ground shifting, cracking, buckling and heaving
Increases life of patio & driveway
WEED CONTROL FABRIC
Stops approx. 95% of weed growth
Lets air, water and fertilizer pass through to plant roots
Saves you time (no more weeding)
Permanent when covered from sunlight
FILTER FABRIC
Protects native soil and silt from clogging drainage septic systems
Drainage protection to maintain flow and percolation
Prolongs life of septic drain fields and drainage pipes
Proven alternative to graded aggregate or sand filters
BENEFITS
High strength to withstand heavy traffic
Gives professional edge
Cuts quickly with no fraying
Easy to install
Permanent when covered from sun light
USE UNDER OR AROUND
Patio Blocks & Pavers
Decorative Stone & Bark
Retaining Wall Filter Fabric
Drainage and Septic Systems
Sand
AVAILABLE SIZES
Retail Cases
3 x 25 30 per case, 3 x 50 20 per case, 3 x 100 10 per case, 4 x 50 12 per case, 4 x 100 6 per case
Bulk Rolls
3 x 250 750 sq. ft. 20#*
4 x 250 1000 sq. ft. 28#*
6 x 250 1500 sq. ft. 41#*
8 x 250 2000 sq. ft. 55#*
12 x 250 3000 sq. ft. 78#*
Please Note: Stone is a product of nature so the color of the stone may vary according to the area it was quarried or mined in. Also, the thickness of the stone may vary plus or minus from what is stated on the product page with each new shipment. Bulk gravel stone sizes are based on a range of sizes and may run bigger or smaller than size stated on product page. We make every effort to represent the products offered accurately on our website and in our marketing materials, however, photos can be affected by lighting, photography, editing, reproduction or printing. It is important to view the actual product before making your final decision, as we want you to be happy with your stone purchase.