How To Build
Building Retaining Walls Without Mortar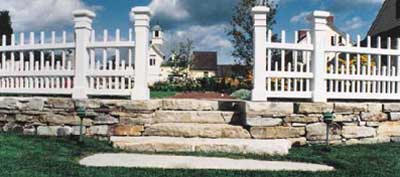 A handsome natural stone retaining wall adds beauty and value to both commercial and residential property.
It is true that an experienced "stone wall builder" can readily build the "perfect" stone wall -and it will last forever. But the building of the stone wall is a project that can also be undertaken by a do-it-yourselfer without the mess and expense of mortar or concrete -with relative ease and great success.
Plan Ahead
First you have to determine the length of the wall (in feet) and the height of the wall (in feet). If the wall is to be no more than 4-feet high, you will be able to use stones about 1-foot wide. That will make your retaining wall about 1-foot thick.
Next, visit your stone dealer to see the various types, colors and materials available that best suit your landscape plan. There are granites, limestones, sandstones, quartzites, flagging, and other specialty ledge type stones that will suit the purpose. Your local stone dealer can offer you recom-mendations and suggestions.
Remember, stone is heavy. (It lasts forever). Don't get discouraged when your stone dealer talks about price per ton of various stones.
Let us say you determined that your wall will be 50-feet long and 2-feet wide. Here is the formula:
50' x 2' x 1' = 100 Cubic Feet (CF)
The stone will probably weigh an average of 125 pounds per cubic foot.
100 cf x 125 pounds/cf = 6-1/4 tons.
Your planned 50-foot retaining wall will need about 6-1/4 tons of stone. Take a little extra to allow for a good selection. The cost can range from $100 to $200 or more, per ton -depending upon the type of stone, how it is to be delivered (or dumped), where it is to be delivered, etc.
Be sure to buy from a reliable stone dealer. Sometimes there is a "bargain" stone available -which may have been blasted free with dynamite -and which now contains microscopic fissures that can hold water and freeze, spall, and deteriorate. All of your effort will have been wasted if the stone material is not of good quality and the wall stone deteriorates.
Tools and Materials
(Some of these may be rented or borrowed from your stone supplier).
1. Heavy Hammer
2. Folding Rule
3. Carpenter's Level
4. Pick and Shovel
5. String Line
6. Crushed stone or gravel
7. Selected Stone
Getting Started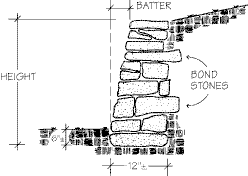 Dig a trench about 6-inches deep and about 12" wide (or as wide as your largest stone) along the base of the proposed location of the wall. Fill it with compacted gravel or crushed stone as a base. There is no elaborate footing required for a wall without mortar since the stones are not bonded together and will rise and fall with the frost. Sort the wall stones by size with all the 5" thick pieces; 4-1/2" pieces, 4" thick pieces, etc. Keep aside the most attractive stones to use as the capstone (top row).
Batter 2" for every 1 foot of height.
Backfill and compact as you go.
Fit stones tightly.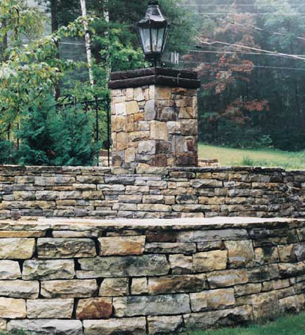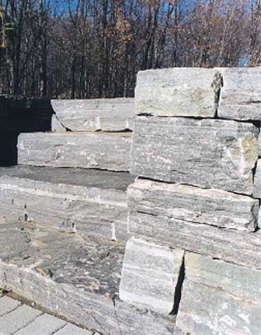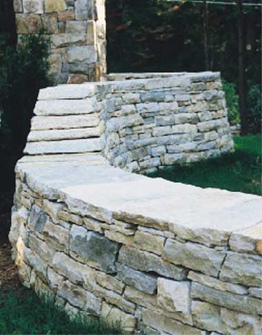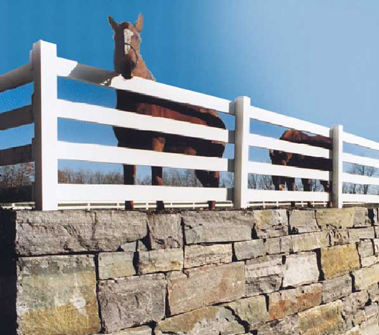 Please Note: Stone is a product of nature so the color of the stone may vary according to the area it was quarried or mined in. Also, the thickness of the stone may vary plus or minus from what is stated on the product page with each new shipment. Bulk gravel stone sizes are based on a range of sizes and may run bigger or smaller than size stated on product page. We make every effort to represent the products offered accurately on our website and in our marketing materials, however, photos can be affected by lighting, photography, editing, reproduction or printing. It is important to view the actual product before making your final decision, as we want you to be happy with your stone purchase.