Steps to Lay Stone Pavers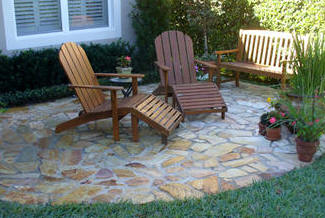 Before you begin to break ground on a stone pavers project, it is a good idea to look into your town's local regulations to confirm you do not need to obtain a permit. If you are unsure of your local regulations, you can call the national, "call before you dig," hotline at 8-1-1. After this you can begin to follow these steps to help your home stand out. Laying stone pavers is a simple project to help transform your exterior and make your home stand out and it only takes about one weekend to complete!
10 Steps to Lay Pavers
Start by measuring the area you would like to lay your paving stone. You can do this by using a tape measure to confirm the square footage of the area for your patio. This is an important step because it will help you confirm how much paver base and paver sand you will need to get started!
Once you finish measuring, ensure you mark the perimeter of the area of the patio. You can do this by putting garden stakes on each corner and attaching a mason's line. Work from the house upward because you will want to ensure the pavers slope away from your home with a drop off of about 1 inch every 8 feet to allow room for water to drain away. Before you dig, mark the height on the stakes and adjust your mason's line.
Using a spade and a shovel, you can start to dig and clear the grass and dirt from your work area.
It is important to keep in mind while you continue to remove the soil that you will be adding 4 inches of gravel base and 1 inch of paver sand before you add the paver stone.
After the soil is removed, take a landscape rake and spread the paver base over the area. Spray a garden hose to make the area solid.
By placing a length of electrical conduit on the base, the conduit will form "tracks" to help you level the paving sand. Begin pouring the sand across and between the conduits. Using a 2 x 4 foot board, smooth and level the sand layer. After this you can remove the conduit and continue adding more paver sand. Ensure the area is completely covered with paver sand and is level.
At last, you can begin laying the paver stones, starting one by one. A simple trick is to work as if you are starting at the tip of a triangle. Place the stones firmly into the sand, nice and snug. Do this until all paving stones are firmly in the sand.
Some people prefer the pavers to fit a vision or specific design they had in mind. If that is your preference, you can use a masonry saw to get the cleanest cut. Be sure to wear gloves and protective goggles while operating the saw.
Finish it off by placing edging stones around the exposed edges of your patio. To secure the edging stones, use concrete or mortar. You can also use paver edging which is a hard plastic edging and the same height as your pavers. You will want to stake it in the ground to secure it.
Lastly, spread some paver sand over the entire area and sweep it with a broom into gaps. Use a plate compactor and run it over the surface.

Once you've finished installing your pavers, follow these steps to care for your new investment. Routine care and cleaning will ensure your stones stay beautiful and polished for years to come.

Frequently Asked Questions

What is paving stone?

Paving stones, also called pavers, are made of natural stone, brick, concrete and other materials.

Why should I use pavers on my property? Paving stones is an excellent way to enhance and make your property look more presentable and assist in making your home stand out. Additionally, it can up your resale value if you are considering making a move. The three different types of pavers are natural stone, brick and concrete which come in different styles and colors. What kind of base to use for pavers?
Sand
Crushed Stone
Stone Dust
Compacted Soil
What is the difference between natural stone, brick and concrete pavers?
Natural stone is typically more expensive than brick and concrete pavers. It is more absorbent, therefore it is best used for pool decks and other pool areas. Natural stone tends to break under pressure so it is not ideal for high traffic areas. Brick pavers are made of clay or concrete and aggregate. It is dyed to look like brick. It is very strong and stain resistant. These bricks can be laid with smaller gaps between them so water can drain through. Concrete pavers are made of molded concrete and aggregate. They are also available in many different colors, styles and patterns. In some cases, concrete pavers can also be dyed to look like brick. Allowing small gaps helps water to be drained through, similarly to brick. Concern pavers are very strong and durable.
How do I maintain my paving stones?
Pavers are very easy and painless to maintain. To enhance the appearance of your paving stones, you can regularly sweep, seal and clean the area. You can even use a pressure washer from time to time for an advanced clean. Additionally, by sealing your pavers it will minimize staining and help them last for the long haul. You can reseal them every two years or so especially in areas of heavy traffic and usage.
We have pavers to help make your landscape look great. Call us at today 1-800-541-8996.