Natural Stone Products Vero Beach, FL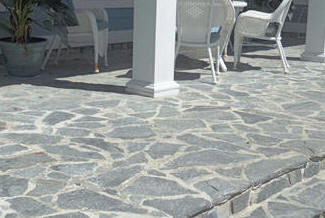 Pebble Junction has been supplying natural stone to Vero Beach since 1986 and is your one stop rock shop for all your needs. We maintain over 15 acres of premium stone inventory as well as a knowledgeable staff that is ready to help you find the perfect rocks for your landscaping project.
Our parent company, Delaware Quarries, has over 60 plus years of experience in the stone industry and is our main provider of our natural stone. To meet the needs of our customers and supply you with an uninterrupted source of quality stone products, we receive daily shipments of building stone, flagstone, garden steppers, boulders, and decorative gravels.
We are proud to sell to retail customers, commercial contractors, custom homebuilders, masons, landscapers, and pool contractors. We understand that every landscaping project requires a unique type of stone, whether it is a certain shape, size or color, and that is why we are proud to offer the following types of stones:
full veneer building stones
thin veneer
landscape boulders
flagstone
decorative gravel
steppers
wall blocks
pavers
stepping stones
Pebble Junction wants you to find the perfect rocks for your stone project in Vero Beach. We pride ourselves on service, quality and competitive pricing.
Contact us at today at 407-323-3838 or to purchase natural stone products direct from the quarry.
Vero Beach is a city in Indian River County, FL with a population of around 15,220. The city was first settled in the 1880s and Henry T. Gifford build a house near present day city hall. It officially became a city in 1919 and during the war in 1942, 1500 acres of land around Vero Beach was used as the location for the Naval Air Station.
Vero Beach Resources
The Indian River Chamber of Commerce - The Indian River Chamber of Commerce helps bring about positive growth and change in the community through business and community services.
The Indian River County Historical Society - The Indian River County Historical Society helps save, preserve and restore the historical resources in the county. They also provide educational programs.
Firefighters' Indian River County Fair – Firefighters' Indian River County Fair provides 10 days of fun and is located in Vero Beach, FL annually. The fair features vendors, live entertainment and more.