Fort Myers Natural Stone Products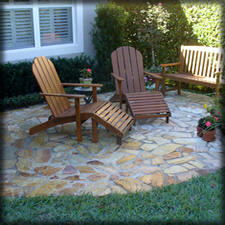 Pebble Junction has been supplying natural stone to Fort Myers since 1986 and is your one stop rock shop for all your needs. We maintain over 15 acres of premium stone inventory as well as a knowledgeable staff that is ready to help you find the perfect rocks for your landscaping project.
Our parent company, Delaware Quarries, has over 60 plus years of experience in the stone industry and is our main provider of our natural stone. To meet the needs of our customers and supply you with an uninterrupted source of quality stone products, we receive daily shipments of building stone, flagstone, garden steppers, boulders, and decorative gravels.
We are proud to sell to retail customers, commercial contractors, custom homebuilders, masons, landscapers, and pool contractors. We understand that every landscaping project requires a unique type of stone, whether it is a certain shape, size or color, and that is why we are proud to offer the following types of stones:
full veneer building stones
thin veneer
landscape boulders
flagstone
decorative gravel
steppers
wall blocks
pavers
stepping stones
Pebble Junction wants you to find the perfect rocks for your stone project in Fort Myers. We pride ourselves on service, quality and competitive pricing.
Contact us at today at 407-323-3838 or to purchase natural stone products direct from the quarry.
Fort Myers is a city located in Lee County, FL with a population of around 74,013. The city is a major tourist destination in the state of Florida and a few popular attractions are the winter homes of Thomas Edison and Henry Ford. The city was home to confederate blockade runners and cattle ranchers during the Civil War.
Fort Myers Resources
Greater Fort Myers Chamber of Commerce - The Greater Fort Myers Chamber of Commerce strives to help businesses grow through networking events, and promotional opportunities available exclusively to their members.
Calusa Nature Center & Planetarium - The Calusa Nature Center & Planetarium provides its visitors with a museum, three nature trails, a planetarium and more. They also strive to provide environmental education.
Fort Rock Festival – Fort Rock is South Florida's biggest rock festival. The event is located in Fort Myers, FL and it features a large lineup of bands for visitors to enjoy.