Natural Stone Products Clermont, FL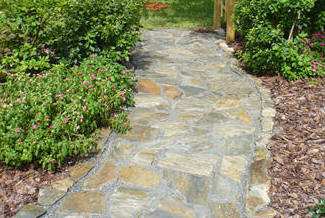 Pebble Junction has been supplying natural stone to Clermont since 1986 and is your one stop rock shop for all your needs. We maintain over 15 acres of premium stone inventory as well as a knowledgeable staff that is ready to help you find the perfect rocks for your landscaping project.
Our parent company, Delaware Quarries, has over 60 plus years of experience in the stone industry and is our main provider of our natural stone. To meet the needs of our customers and supply you with an uninterrupted source of quality stone products, we receive daily shipments of building stone, flagstone, garden steppers, boulders, and decorative gravels.
We are proud to sell to retail customers, commercial contractors, custom homebuilders, masons, landscapers, and pool contractors. We understand that every landscaping project requires a unique type of stone, whether it is a certain shape, size or color, and that is why we are proud to offer the following types of stones:
Pebble Junction wants you to find the perfect rocks for your stone project in Clermont. We pride ourselves on service, quality and competitive pricing.
Contact us at today at 407-323-3838 or to purchase natural stone products direct from the quarry.
Clermont is a city located in Lake County, Florida with a population of around 30,201. The city was originally founded in 1884 and it was named after the birthplace of A.F. Wrotniski. Clermont is a residential city that has economy centered in retail trade, lodging and tourism. It is also the home of the Florida Citrus Tower.
Clermont Resources
South Lake Historical Society - The South Lake Historical Society strives to preserve, maintain and share the history South Lake County. The museum covers events from the 1800s to the end of World War II.
The Clermont Chamber of Commerce – The Clermont Chamber of Commerce strives to enhance the community of Clermont Fl. They aim to help make the area desirable for both residents and businesses.