Gravel Delivery Naples, FL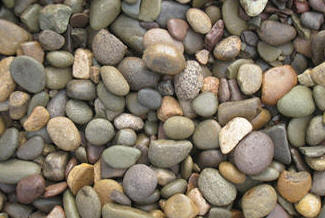 Pebble Junction has been shipping gravel to Naples since 1986 and is your one stop shop for all your gravel needs. Our Gravelscape Gravel is available in a variety of styles that can be used for a range of projects including: walkways, driveways, drainfields, decorative landscaping, planters, landscape edging, dry creek beds, kennel runs, and more. We also have bagged gravel available.
Our parent company, Delaware Quarries, has over 60 plus years of experience in the stone industry and is our main provider of our landscape gravel. Pebble Junction also produces a large variety of decorative landscape gravels in bags for shipment to mass merchandisers, nurseries, garden centers, stocking dealers, and authorized retailers throughout Naples, FL.
We are proud to sell gravel to retail customers, commercial contractors, custom homebuilders, masons, landscapers, and pool contractors. Our gravel delivery cost is based on the delivery destination and method of delivery.
We have the following types of Gravel available.
Pebble Junction wants you to find the perfect gravel for your landscaping project in Naples. We pride ourselves on service, quality and competitive pricing.
Contact us at today at 407-323-3838 to purchase our Gravelscape® Gravel products.
Naples is a city in Collier County, Fl with a population of around 20,600. The city was founded in the 1880s by John Stuart Williams and Walter N. Haldeman. It received the name Naples because promoters described the bay as "surpassing the bay in Naples, Italy." The railroad was completed in 1928 and it linked Naples to Miami, but development didn't begin until the Great Depression and World War II ended.
Naples Resources
Greater Naples Chamber of Commerce - The Greater Naples Chamber of Commerce helps businesses succeed by making connections through networking while working with the government to ensure a business friendly environment. The chamber of commerce also seeks to grow and diversify the region's economy.
The Baker Museum - The Baker Museum is a museum of fine arts located in Southwest Florida. The museum exhibits modern and contemporary art while providing the community with educational opportunities.
The Stonecrab Festival – The Stonecrab Festival is an annual event in Naples, FL. It features a weekend of food and fun. Visitors to the festival can explore the Naples waterfront.